PROCHEM TRAINING COURSES
A range of industry recognised training courses for carpet, upholstery and floor cleaning and maintenance is provided in the UK, covering the latest techniques and maintenance methods.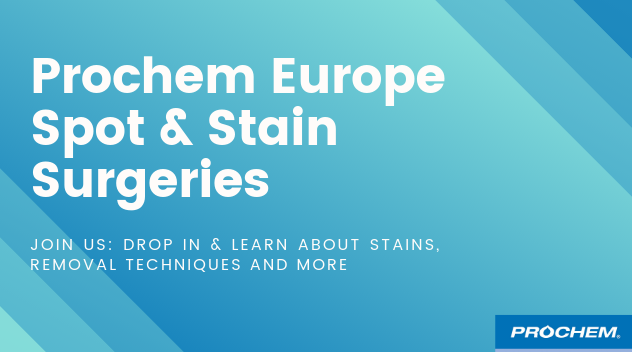 NEWS UPDATE
The latest from Prochem Europe…
admin
Cleaning products specialist Prochem Europe has added a new guide to removing adhesive tape residue to its Technical Help Guide roster. With restrictions easing, cleaners removing yellow and black social distancing tape from carpets and [...]
admin
Face-to-face training is returning to Prochem Europe's Chessington, Surrey Training Academy The move comes on the back of notably high demand for assistance with stain removal, says the company. With most of the UK population [...]
admin
As we come out of lockdown, it's time to start removing and replacing some of those lines of yellow and black social-distance tape that have kept people apart. Nene Valley Steam Museum Railway in Stebbington, [...]
PROCHEM SOCIAL MEDIA
Follow Us!
Prochem October 2021 Ezine
Check out the latest news update from Prochem cleaning technology and solutions – lots of useful cleaning tips too!
Subscribe to the Prochem Ezine!