PROCHEM TRAINING COURSES
A range of industry recognised training courses for carpet, upholstery and floor cleaning and maintenance is provided in the UK, covering the latest techniques and maintenance methods.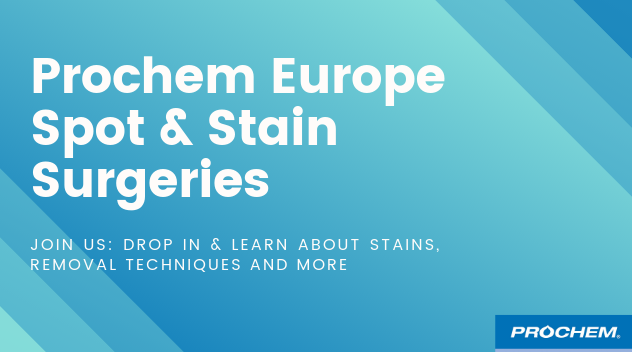 NEWS UPDATE
The latest from Prochem Europe…
admin
Due to the recent outbreak of Coronavirus (COVID-19), Prochem Europe has seen increased demand for its D500 Microsan® biocidal cleaner. Originally developed in the 1980s for the HBV, HCV and HIV blood-borne viruses, the Microsan [...]
admin
The latest cleaning technology and solutions catalogue from Prochem Europe showcases major performance upgrades to the company's Steempro carpet extractor ranges. The Steempro Powermax SX2100 has been updated with a 170psi induction pump replacing its former 150psi [...]
admin
Contract managers at leading London FM provider Julius Rutherfoord & Co gained added understanding of the challenges of carpet cleaning at a dedicated one-day training course held at its headquarters by Prochem Europe. Says Prochem [...]
PROCHEM SOCIAL MEDIA
Follow Us!
Check out the latest news update from Prochem cleaning technology and solutions – lots of useful cleaning tips too!
Subscribe to the Prochem Ezine!