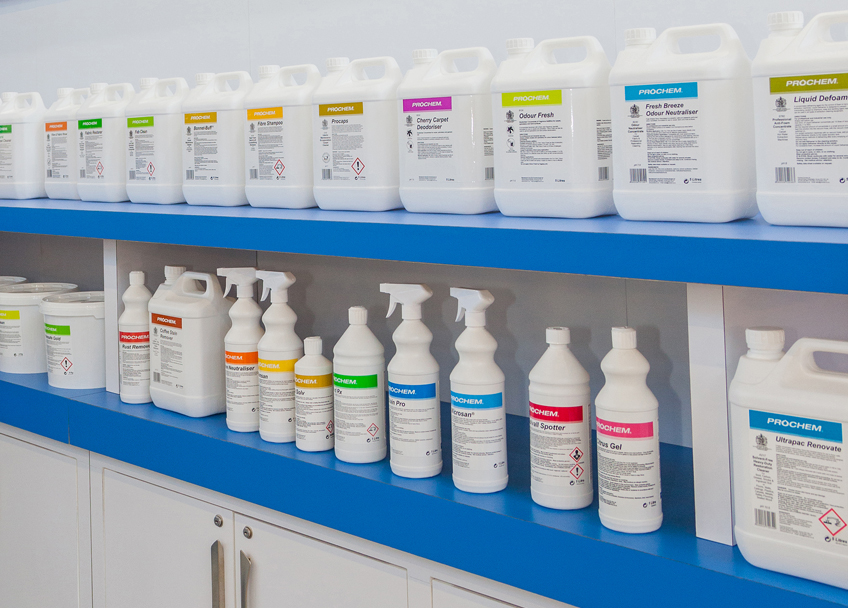 Prochem cleaning products have a worldwide reputation for outstanding performance in the professional, commercial and institutional cleaning sectors.
Specialist products cover a whole range of requirements for carpets, upholstery, floors and surface cleaning technologies and maintenance.
Formulations are developed in-house to meet strict performance, safety, quality and environmental criteria. Prochem Europe cleaning products are available from a network of selected distributors offering local supply, advice and training.
Safety and the Environment
Prochem Europe cleaning products shown on this website are constantly assessed for user safety and environmental impact. Products comply with the Classification, Labelling & Packaging (GB CLP) Regulations 1272/2008, as amended. Raw materials comply with the requirements of the Registration, Evaluation, Authorization and Restriction of Chemicals (UK REACH) Regulations, as amended. Surfactants comply with the biodegradability requirements of the Detergent Directive 648/2004 as amended. Active ingredients of biocidal products comply with the requirements of the Biocidal Products Regulations (BPR) 528/2012.
Prochem Europe cleaning products are intended for professional and industrial use only.
Safety Data Sheets and Product Specification Sheets can be downloaded from each product description page.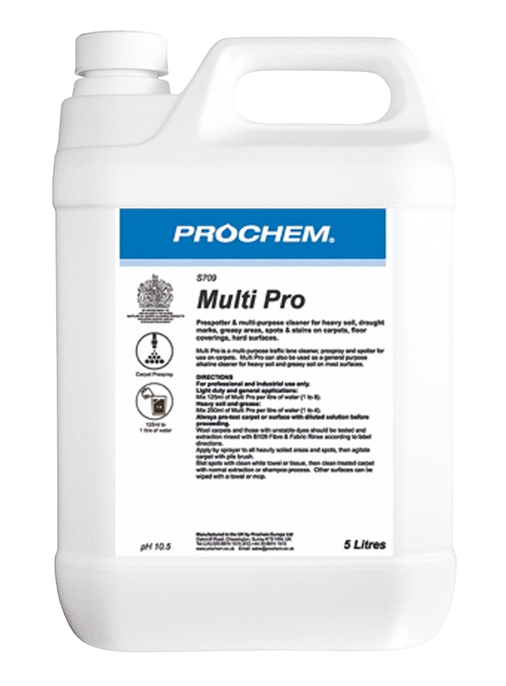 Carpet Presprays & Traffic Lane Cleaners
A range of specially formulated pre-treatments to help release heavy soil, oils and grease from carpet traffic lane areas before normal extraction or shampoo cleaning. Prochem presprays and traffic lane cleaners help prevent over-wetting and leave carpets bright and clean with minimal residue.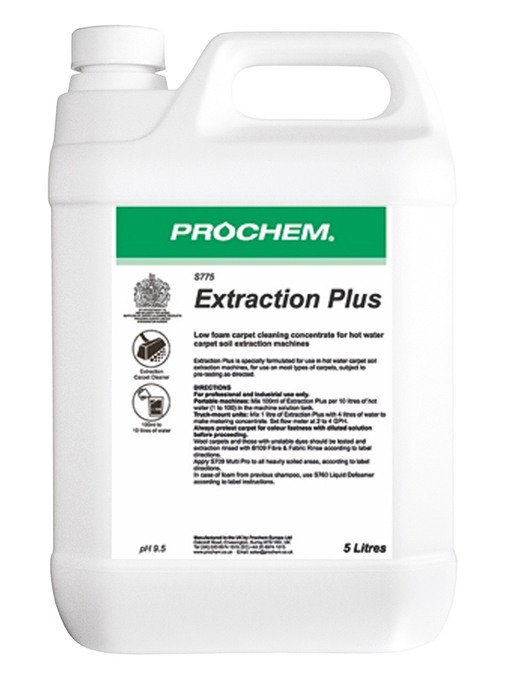 Carpet Extraction Liquid Detergents
The industry's most comprehensive range of low foam carpet cleaning chemicals for use in hot water extraction cleaning equipment. Prochem liquid extraction detergents are quick acting emulsifiers that release and suspend soils to give maximum cleaning with minimum residue.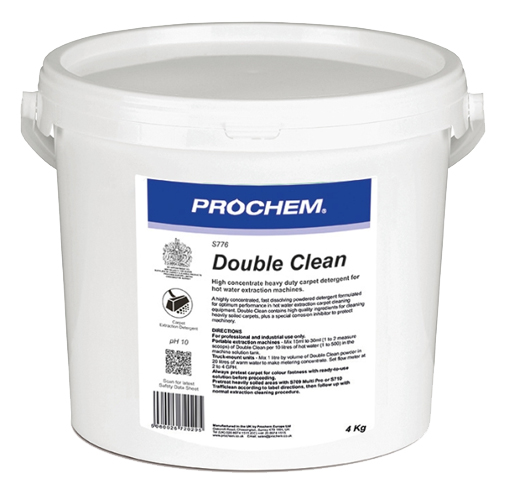 Carpet Extraction Powdered Detergents
Highly concentrated carpet extraction detergents in powder formulations for optimum results and greater economy. Ideal for use in contract cleaning and with truck-mount units and high pressure extractors.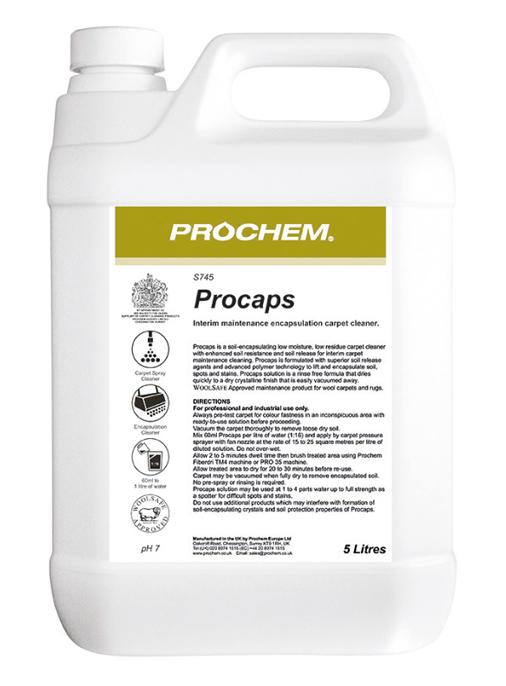 Carpet Maintenance Products
An extensive range of products for carpet maintenance and low moisture cleaning operations. Prochem carpet shampoos and maintenance cleaners incorporate the latest quick drying and anti-resoil chemistry.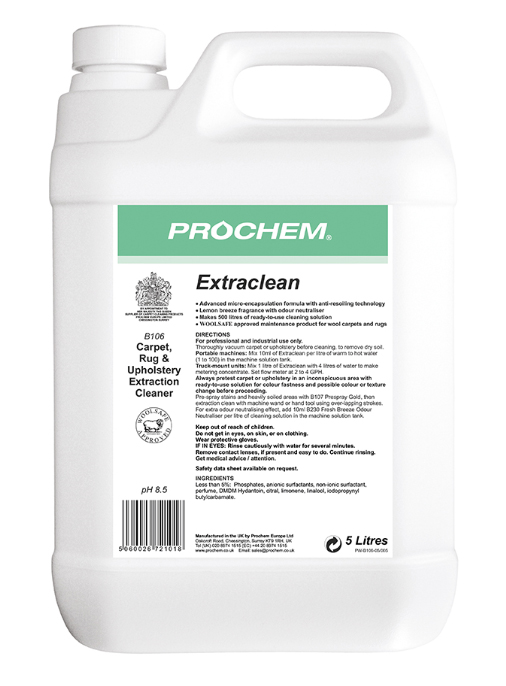 Upholstery & Fine Fabric Products
For the most delicate upholstery fabrics and rugs, Prochem's fine fabric range includes low foam and high foam detergents, rinse agents, solvents and leather care products.
SAFETY ASSURED
Prochem upholstery cleaning products have been independently tested by a UKAS accredited laboratory and have been shown not to adversely affect the ignition resistance of flame retarded fabric used as a composite in conjunction with specified foams.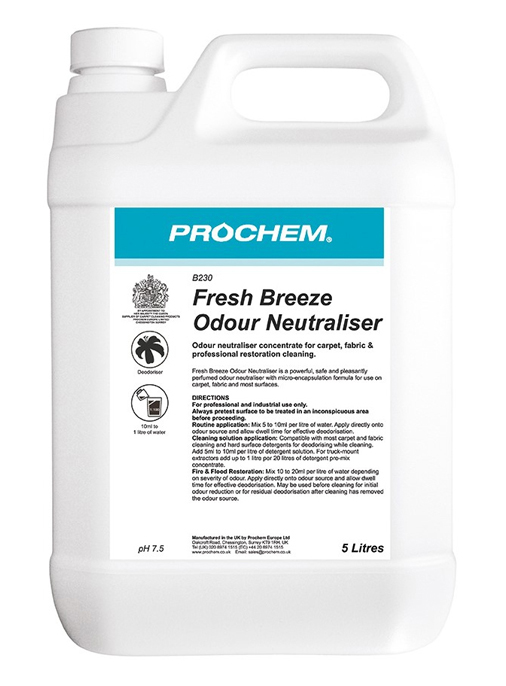 Deodorisers & Sanitisers
With specialist products for professional deodorisation, the Prochem range is user friendly and highly effective on difficult odours in carpets and fabrics. From smoke to urine and general musty odours in carpets and fabrics there is a Prochem deodoriser to solve the problem. Use biocides safely. Always read the label and product information before use. (Applies to Clensan, Microsan and Contract Carpet Sanitiser).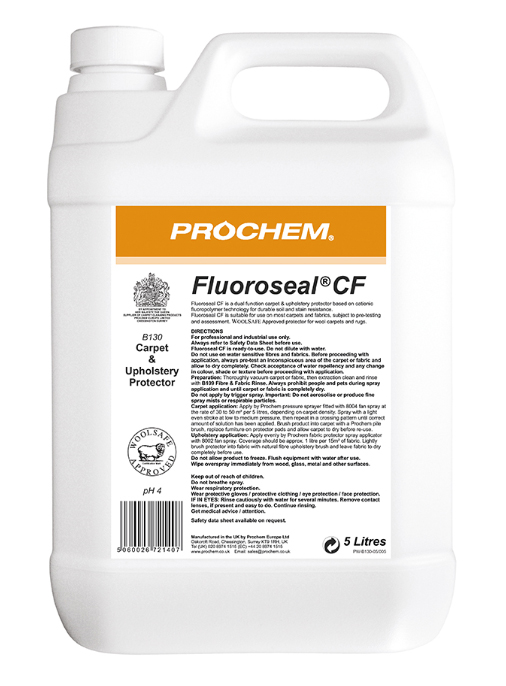 Carpet & Fabric Protective Treatments
Exclusive protection products to ensure durable soil and stain resistance on new and freshly cleaned carpets and fabrics.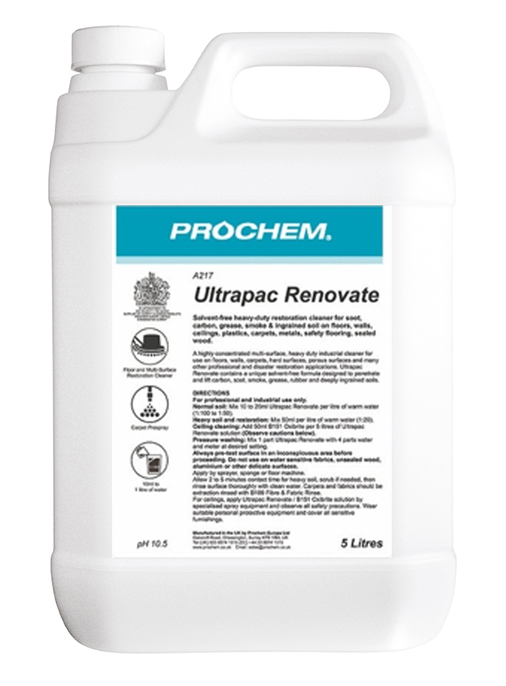 Problem Solvers & Additives
Essential problem solvers for the professional carpet and fabric care specialist. From defoamers to oxidising boosters, solvent additives and debrowning solutions.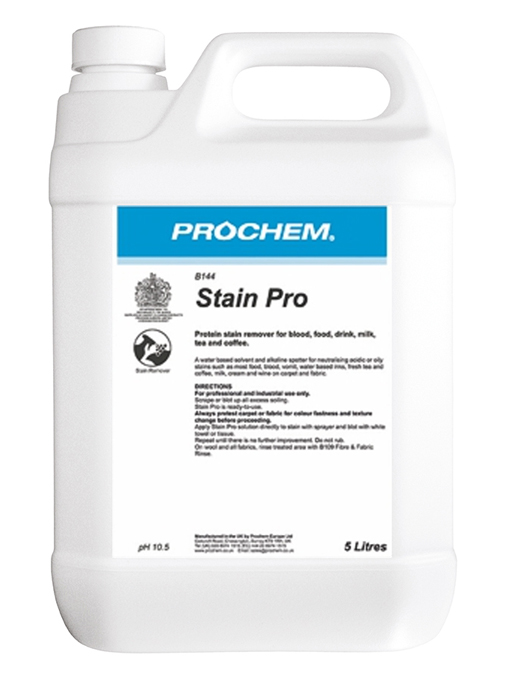 Spot & Stain Removers
With specialist products and a professional spotting kit, the Prochem spot and stain remover range has tried and tested formulations to deal with most spot and stain problems.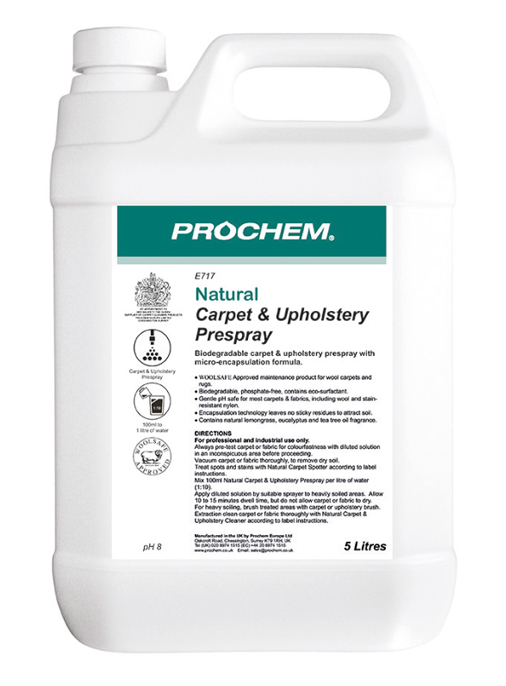 Natural Range
High performance environmentally safe products with the latest eco surfactant formulations and natural lemongrass, eucalyptus and tea tree signature fragrance.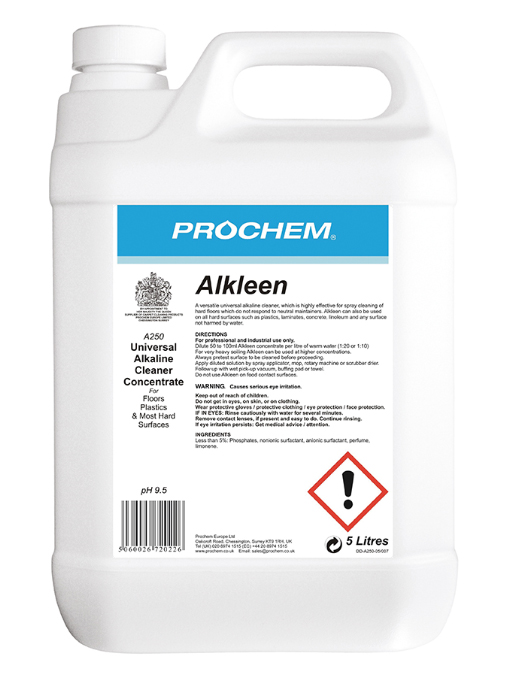 Hard Surface & Floor Maintenance Products
Specialist products for smooth resilient flooring, safety floor, stone & tile and floor maintenance including, emulsion polish stripper, acrylic and fluoropolymer seals, dry bright emulsion polish and floor maintainer.