PROCHEM TRAINING COURSES
A range of industry recognised training courses for carpet, upholstery and floor cleaning and maintenance is provided in the UK, covering the latest techniques and maintenance methods.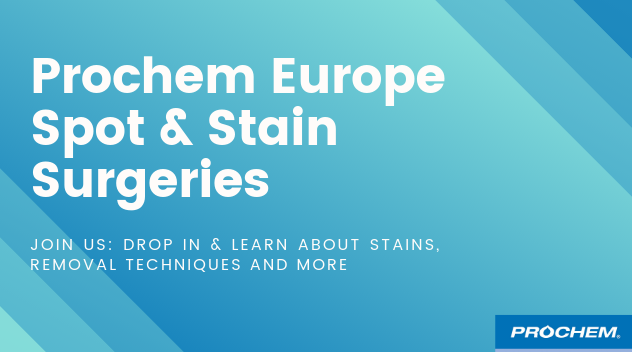 NEWS UPDATE
The latest from Prochem Europe…
admin
Professionals and others tasked with cleaning and maintenance services can benefit from a newly-introduced programme of surgeries dedicated to stain removal from solutions and training provider Prochem Europe. Co-hosted by the company's distributors, Prochem's Stain Removal [...]
admin
Professional cleaners and entrants to market have much to benefit from visiting Prochem Europe's stand, B20, at the Manchester Cleaning Show, taking place at EventCity on 25-26th March, 2020. In addition to showcasing a comprehensive selection [...]
admin
A lot of professional cleaners come into the cleaning business and for all kinds of reasons. Setting up MTA Carpet Cleaning helped owner Terry Aldridge through personal grief. "My wife Mandy passed in 2016," he [...]
PROCHEM SOCIAL MEDIA
Follow Us!
Prochem November 2019 Ezine
Check out the latest news update from Prochem cleaning technology and solutions – lots of useful cleaning tips too!
Subscribe to the Prochem Ezine!