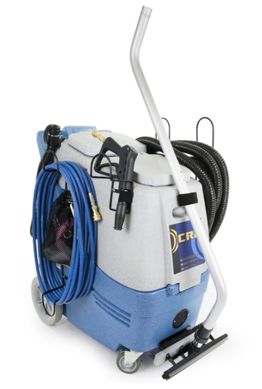 Looking for solutions for post-Coronavirus cleans? Make sure you have this power-packed trio in the van.
First, the technology and the good news is that COVID-19 has a new enemy in the clever CR2.
Sold in the UK by Prochem Europe, this formidable piece of kit is manufactured in the USA where its supplier reports a major upturn in demand with 68 units sold in the first 10 days of the pandemic.
Marketed as a dual-purpose Touchless Hyper- Hygienic multi-surface cleaning system and carpet cleaner, the CR2 comprises a front water tank, rear waste solution collection tank, 500psi pump, single vacuum motor and a chemical feed system that allows the user to feed chemical disinfectant or detergent into the wash solution without needing to pre-mix in the water tank.
The unit's adjustable, high pressure gun enables solution to be sprayed, with the waste water sucked up the waste solution into the rear tank ready to be disposed of (check out this issue's feature on how to dispose waste water legally!).
Used in conjunction with the correct PPE plus great cleaning and sanitising products available from Prochem, the CR2 is a formidable weapon in the fight against this virus.
Check out the CR2 video at  prochem.co.uk/product/cr2-multi-surface
Then there are the solutions with even better news as both can be used with the CR2.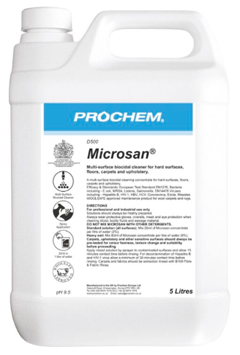 D500 Microsan® is a multi-surface biocidal cleaner for use on washable surfaces, carpets, fabrics and floors and has been approved to EN14476 standard as being effective against many bacteria and viruses including the Coronavirus Coronaviridae family (including MERS-CoV).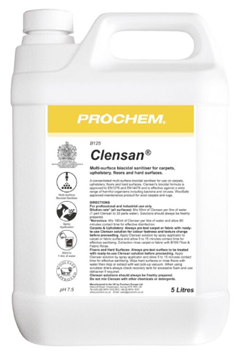 B125 Clensan® is a multi-surface biocidal sanitiser that may be used on carpets, fabrics and hard surfaces and has also been approved to EN14476 standards. It is effective against a wide range of bacteria and enveloped viruses including Norovirus.
Have these three to hand when you are asked in for deep cleans and sanitising of all types of built environments.