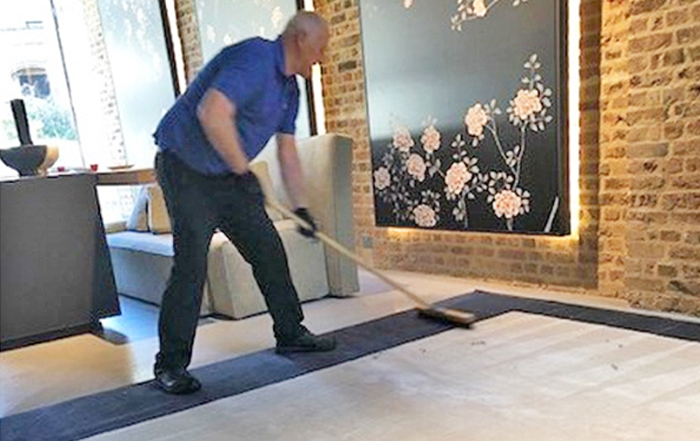 Busy organising a viewings reception for exclusive customers, north London fitted kitchen and furnishings retailer Valcucine decided that the £5,000 rug they'd be standing on would benefit from some protection, come the day.
A call to Prochem prompted a visit from Carpet Preservation Services (CPS), Essex-based specialists in cleaning the capital's demanding quality hotels and leisure market, one long-characterised by high service levels with strong sales returns.
"This was a very prestigious location with some fabulous fixtures and fittings, not least this enormous rug," says CPS Director of Operations, Nick Bull.  "The reception came with canapés, wines, coffee and so on, and it was clearly sensible of the owners to get us in to protect an investment like this."
CPS operative, Lance Martin, with 30 years' experience under his belt, went in and treated the rug to an application of Prochem's Fluoroseal® CF Carpet Protector.
Suitable for protecting most wet-cleanable fabrics and carpets after extraction cleaning, this highly-effective protector using cationic fluoropolymer technology is WoolSafe approved and ready to use without dilution. Below, Lance applies the protector using a spray, brushes it into the rug and allows it to dry.
Carpet protection work of this kind is on the increase at CPS, who clean top-ranking West End hotels and venues. Fluoroseal CF is their stand-by solution for protecting fabrics, says Nick.
The family-run business employs him, wife Lois, Lance and one further operative.
"Ours' is a personal yet professional service offer that's enabled us to work with some of the finest venues in the region since we started in the nineteen eighties," says Nick.
CPS provides a professional carpet, upholstery and curtain cleaning service, predominantly to four- and five-star hotels throughout London and the Home Counties.
"As always, quality contracts demand quality solutions and Prochem offer a very comprehensive range of chemicals that get the job done effectively and quickly," adds Nick.