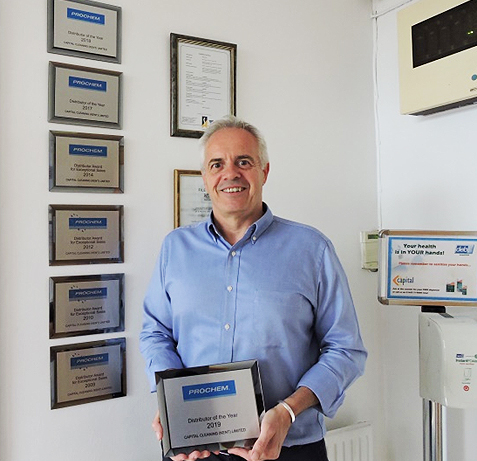 Congratulations to our Distributors of the Year – a global pandemic may slow presenting awards to 2019 winners but where there's a will there's a way!
So, say hello to 2019 Distributor of the Year: Capital Cleaning (Kent) Ltd.
Says director Steve Wentzell:
"We're very pleased to be Prochem Distributor of the Year for the third year in succession. Our sales success is based on excellent product knowledge and experience as we have been a dealer for over 20 years."
Steve continues: "Market-leading products make Prochem a relatively easy sell. We have been very active recently to ensure sales didn't drop off. We have done many demonstrations via Zoom as well as staying in touch with customers old and new via social media.
"As training has become difficult due to lockdown we have created our own training videos that we send to customers when they purchase a new machine. We are looking forward to continuing our relationship with Prochem and maybe winning again next year."
Capital is a family business. Steve's brother Ashley adds:
"It's really satisfying that since we first won the Prochem distributor of the Year award in 2009 not only have we won it a fantastic seven times we've now achieved the accolade three times in a row! Capital have been a Prochem distributor almost as long as we've been in business which is coming up for 40 years and in that time, we've never had a problem with quality or service. This gives us the confidence to sell the whole range on our web sites, in our showrooms and by on-site demonstration.
"Our favourite is the Powermax; with its recent uprating the pump gets the water to where it needs to be and the dual vacs dry the carpets quickly and easily. Of course, you need good chemicals to help your equipment and although we are gradually selling more from the Natural range, Extraction Plus and Trafficlean remain our top seller!
"It's been a tough year but we seem to be through the worst of it and things are gradually getting back to normal. Here at Capital we've worked hard to keep up sales of traditional items as well as getting involved with social distancing products, alcohol hand sanitiser and PPE. We've also tried to help new customers who couldn't get products from their normal supplier as well as catering for the needs of our regulars. As the lockdown eases more we're focusing on continuing to build our business, strengthen our links with Prochem and who knows we may win the award again next year!"
Global-Clean based in Siedlce, Eastern Poland were delighted to win the International Distributor of the Year 2019 award and reported back a summary of business in the territory.
Says managing director and owner, Leszek Dmowski:
"Running a business during the outbreak of COVID-19 is hard with restrictions set by the Polish Government impacting on the cleaning industry.
"The vast majority of the public sector had to be shut down, people told to isolate and practise social distancing. Many were afraid and kept doors shut, hampering carpet cleaners and causing them to lose business and contracts.
"At Global-Clean, we are now open every second day, dispatching products – a lot being Prochem – that have been ordered online and keeping in touch with our clients via phone and social media.
"We are training using video conferencing and have come to like it. It's extremely beneficial so even after the panic of COVID-19 we will continue using this method as it will allow us to reach our many Prochem customers throughout Poland."
"Phil Jones from Prochem came out to see us and help run a training course, back at the end of 2019 and we gained a large increase in product sales following that event. We are considering hosting another one, once this pandemic is over".
Leszek adds:
"Being Polish means we are very hospitable so there is one thing we are really missing – shaking our customers' hands. Hopefully, as normality slowly comes back, we can look forward to that enormously!"
Another big 'well done' goes to Janitorial Direct.
Says MD Julian Gaze:
"We have been selling Prochem machines and chemicals successfully for over twenty years and found the machinery to be very effective, providing performance and reliability to a wide range of carpet cleaning needs and environment.
"The machines are supported by a superb and comprehensive range of chemicals, which are easy to use and extremely effective. All the above is under-pinned by tremendous back-up to my company, from technical support both for the chemicals and machinery, including first class training for our customers, as well as sales support and advice.
"As we go from strength to strength, Prochem are an important part of our continued growth. "
Another winner for 2019 was Cutlers!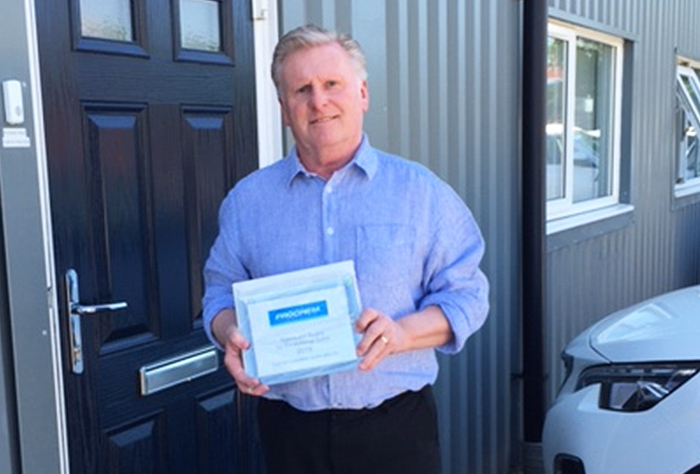 Iain Bell, sales director, Cutlers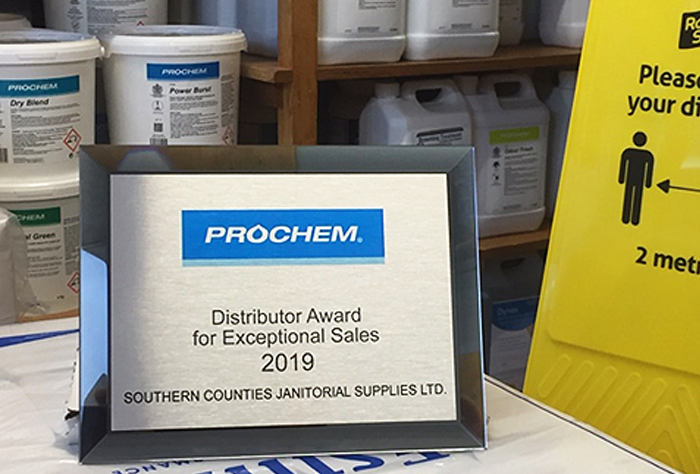 Congratulations, also, to Southern Counties Janitorial Supplies – another Exceptional Sales winner.
Director brothers Andrew and Nigel Kent run branches for the business in Crawley and Brighton, Sussex:
"We are proud to be the winners of the Prochem distributor award for exceptional sales in 2019. We have been selling Prochem products for over 40 years. The quality of their products, the reliability of their machines and their diverse range makes selling Prochem to our customers easy. Thank you to all at Prochem for their support and thank you to the SCJS Team for their Prochem product knowledge and hard work. We look forward to another successful year working together."
Let's hear it, too, for Hooper Services.
Says sales director, Dave Clark:
"It is wonderful to hear that Hooper Services have won the Exceptional Sales Award with Prochem Europe.
"We have been working with Prochem for over twenty-five years for chemical and machinery sales, servicing and support. Over that time, we have developed a close relationship with the team and they are able to help us with enquiries from chemical alternatives to machinery demonstrations and open days. No customer is too big or too small.
"With the UK and the world looking to the cleaning industry to support the fallout post Covid-19, working together to achieve a cleaner, safer environment for us all should be our common goal."
And well done Ajax (Ipswich), winner of the Exceptional Sales 2019 Award.
Says Gary:
"I was delighted to receive this award from Prochem, as we have not been an authorised distributor that long but we had identified a requirement within our customer base for specialty carpet cleaning products and now we supply into Ipswich and the wider Suffolk area with great success.
"We now stock a large range of the chemical detergents on our shelves as well as a selection of the Prochem machinery, to which we also have a great success hiring to customers. This has often led to a sale, as the customer decides to purchase their own unit!
"Ajax is a family run business with over forty years of experience in the domestic market and has grown naturally to support the larger commercial customer, such as the NHS, large FM companies as well as the local cleaning companies with both chemical products, machinery choices and on-site servicing and repairs.
"We find the support in product choice and technical support that Prochem offer is second to none and it makes promoting – and selling – very easy!"
Congratulation also to The Maintenance Supply Co. Ltd. based in Brentwood, Essex – Exceptional Sales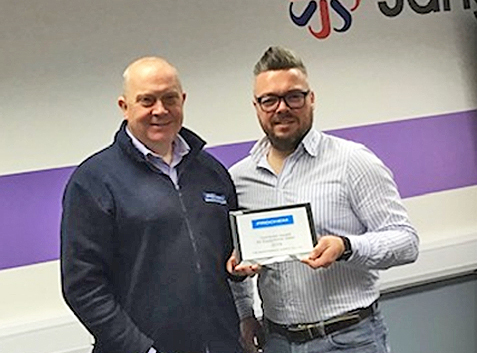 Ross Osbourne (right) of The Maintenance Supply Co with Phil